Tuesday, April 16, 1 p.m. Central Time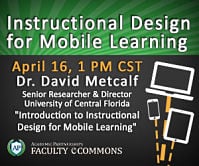 Mobile technology is a growing and powerful trend: people now spend more time on mobile apps than they do on the web. What opportunities does this trend present to those who design online learning? How can we leverage mobile technology in ways that make sense for our teaching methods and students' learning? To answer these questions, we will explore principles for designing mobile learning; pedagogies for teaching with mobile technology; and tools for creating mobile instruction though a series of webinars and an accompanying MOOC.
Join this live webinar -- the first in a series -- hosted by Kenneth C. (Casey) Green of The Campus Computing Project, for a lively conversation with Dr. David Metcalf, whose METIL lab explores leading edge innovations in learning.
The Instructional Design for Mobile Learning webinar is a presentation of Academic Partnerships' Faculty eCommons and is not an

Inside Higher Ed

editorial offering. Click here for information about the complete micro-MOOC from Academic Partnerships.